Tēnā koutou,

The arrival of spring welcomes new life, sunshine, and a reminder that the end of the year is steadily approaching. The past month has been one of planning, preparation, endings, and new beginnings. Our CSI Associates have been honing their offerings in preparation for the upcoming Philanthropy Conference in Wellington, gearing up to kōrero on topics that are front of mind for many of us alongside speakers from across the motu.

Bookending the month, I was delighted to attend the dawn ceremony launching this year's Auckland Climate Festival, co-hosted this year by Ngaati Te Ata Waiohua, at the Auckland Botanic Gardens. We were graced with a misty sunrise, kapa haka, and inspiring keynotes that reminded us of the importance of collective climate action.

In the spirit of new beginnings, we are excited to launch Ngahere for Teams, as the next phase of Tuihana Ohia and Louise Marra's wellness webinars. Louise and Tuihana's offerings of guided reconnection to Papatūānuku and the self through the previous Ngahere sessions have been a taonga – reminding us of the gift of a pause. I have no doubt this next series of offerings from these wāhine will continue to bring revitalised energy and connection to those who partake.

The beginning of one season marks the end of its predecessor, and this month we say a heartfelt farewell to Sue McCabe, as she embarks on her next journey in December this year. Thank you, Sue, for your longstanding contributions to philanthropic kaupapa and the community.
Titiro whakamuri, kokiri whaka mua.
Look back and reflect so you can move forward.

Ngā manaakitanga

Karinia Lee, Head of Centre
Centre for Social Impact
---
Te Pūaha Talks: Ngahere for Teams
In September we launch our next series of free online Te Pūaha Talks events with Ngahere for Teams. Ngahere for Teams builds on the success of our Te Pūaha Talks series of Ngahere personal online wellness webinars, created and delivered by CSI associates Tuihana Ohia and Louise Marra to help individuals reset, rejuvenate, nurture and care for themselves and those around them.

In Ngahere for Teams, Tuihana and Louise will take participants on a voyage of embedding holistic wellbeing practices for their teams, exploring the importance of wellbeing in self, team and system, how connectivity enables wellbeing, and how to ground and nourish teams through a greater connection to Papatūānuku.

Four workshops, each of one hour's duration, are being offered. The first session is Friday 8th September, 8.30am - 9.30am.
---

Community Comms Collective – webinar on human-centred communications
The Community Comms Collective is a group of professional comms people who volunteer their time to help community organisations communicate better. Te Pūaha Talks is pleased to support the Collective deliver an online webinar for not-for-profits and collective volunteers on human-centred communications. The webinar will be hosted by Kassy Hayden and Julia Anderson from Mitra communications agency. Kassy and Julia will be sharing insights and examples of how to build trust and strengthen relationships through communications. They will discuss the research surrounding the science of storytelling, human values, and what unites people around a cause.The webinar is online Friday 8 September, 10am-11am.
---
Māori associations with Southern Oceans and Antarctica
CSI Associate Aimee Kaio (Ngāi Tahu, Te Arawa, Ngā Puhi) is presenting on Māori associations with Southern Oceans and Antarctica at the INSTANT conference in Italy, 11 – 14 September. Aimee is Joint Chair of the Kahui Māori (Cultural Advisory) for the New Zealand Antarctic Science Platform.

INSTANT is the acronym for The INStabilities & Thresholds in ANTarctica (INSTANT) Scientific Research Programme. The programme aims to quantify the Antarctic ice sheet contribution to past and future sea-level change, from improved understanding of interactions and feedbacks with atmosphere, ocean and solid Earth. It also seeks to incorporate Indigenous perspectives on climate change, sea level rise, and associated impacts to identify how Indigenous knowledge systems help us understand and adapt to change. "I will be talking about our connection/whakapapa to Antarctica through mytho-historical storytelling, whānau and lived experience lenses; and, why Antarctica matters to us," Aimee says. More information on the INSTANT2023 programme is available here.
---

The Funders Commitment 2023 Inaugural Report
The Climate Action Aotearoa inaugural report on the Funders Commitment has been published. It shows the emergence of a Tika Transition movement across the country, inspired by te ao Māori principles of an equitable transition. The report draws on qualitative data collected by Climate Action Co-Leads Esther Whitehead and Arohanui West in conversations with the 11 signatories to the commitment. Quantitative data for the report was then collected through a self-audit survey, focusing on measures of climate action progression, which were drawn from a 2022 baseline survey.
Key findings included:
Between 2022 and 2023 the greatest area of progress related to the willingness in organisations to enable tangata whenua leadership and aspirations on climate action. In 2023, 95% of signatories described this as 'high' compared to only 18% giving it this scoring, in 2022.
The level of overall understanding of mātauranga Māori perspectives on climate action increased between 2022 and 2023 but is still relatively low (2.63). It received the lowest average rating increase of all the questions (from 2.18 in 2022). There is, however, huge willingness to tackle this across signatories.
The report compares the growth of the Tika Transition across participating funders to the growth of a forest, with this visual capturing the aim of Climate Action Aotearoa and the Funders commitment to germinate and grow a movement for climate action in philanthropy.
Our thanks to Arohanui and Esther for their work on the report. The report can be accessed here along with a video presentation of the report here.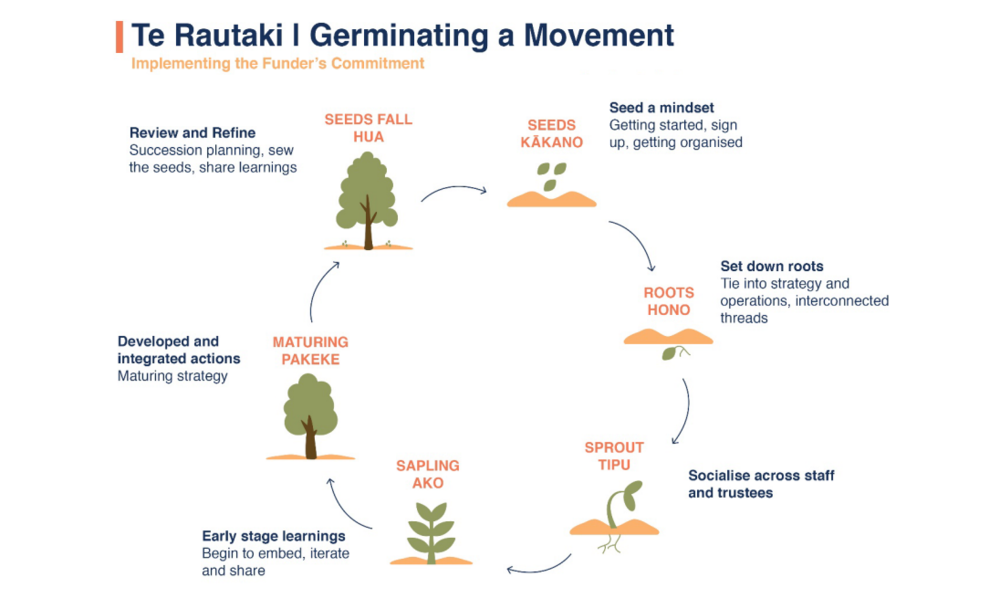 ---
Te Pūaha Talks - Auckland Climate Festival
A Te Pūaha Talks workshop in association with Climate Action Aotearoa will be offered during the Auckland Climate Festival. Your Sphere of Influence will be an interactive session, facilitated by Climate Action co-leads Esther Whitehead and Arohanui West. The workshop will help participants from charities and community organisations, funders, and businesses gain clarity on their sphere of influence within their organisations and explore how to build capability for action. The workshop will address 'looking back to look forward', and outline how honouring Te Tiriti o Waitangi and Mātauranga Māori can support building a strong foundation for climate action in Aotearoa.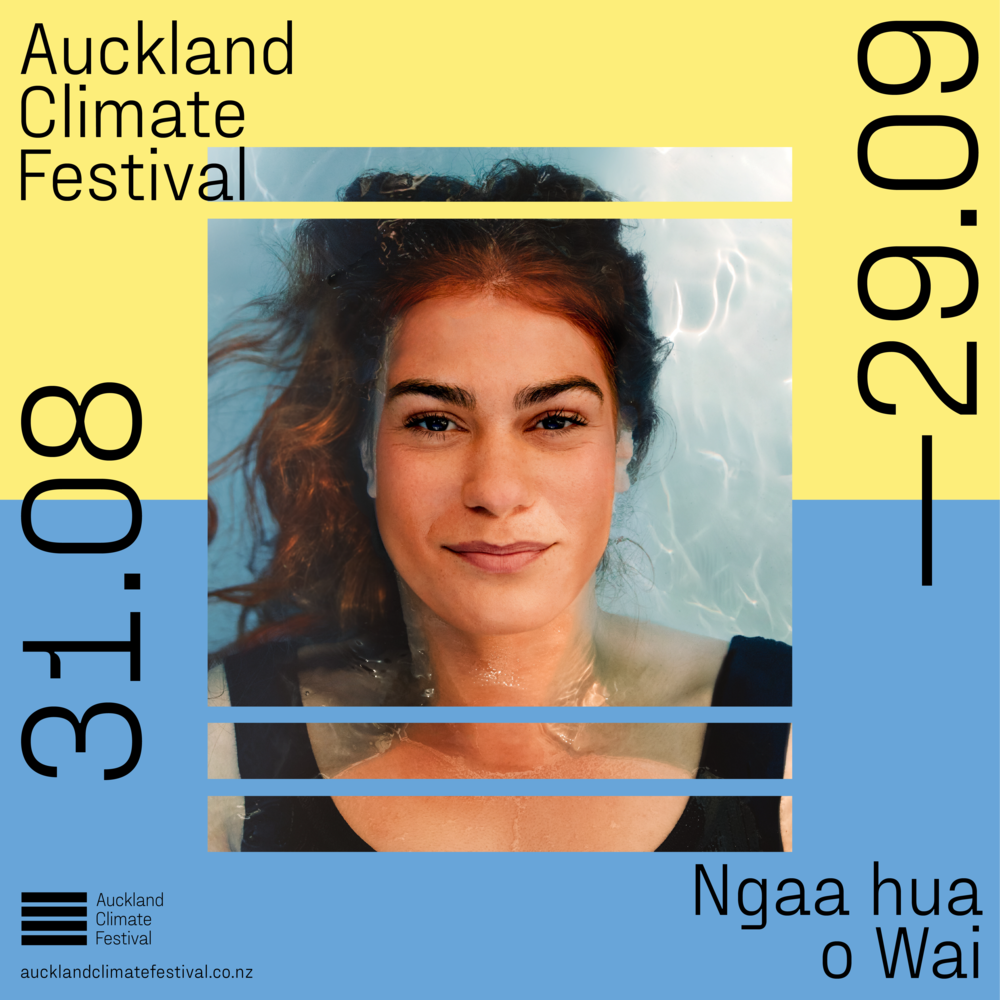 ---
Ngā Tau Tuangahuru – success for Pacific students

A 10 year longitudinal study on what success looks like for Māori and Pacific children, young people and their families, as Māori and as Pacific people, is being run by CSI for Foundation North. The study, Ngā Tau Tuangahuru ('looking beyond for ten more years) was commissioned at the conclusion of the Foundation's Māori and Pacific Education Initiative (MPEI).

A new video animation from the Ngā Tau Tuangahuru research team captures the perspectives of 77 Pacific students from five South Auckland schools on what success and 'doing well' means to them. They also identified what helps them succeed, what stands in their way, and how they overcome barriers to success. The animation is voiced by children and young people who participated in the study.

The next stage of Ngā Tau Tuangahuru will explore the impacts of events such as COVID-19, extreme weather, and inflation and how Pacific children and their families are responding to these.

Image by Maka Makatoa (animator, illustrator, director).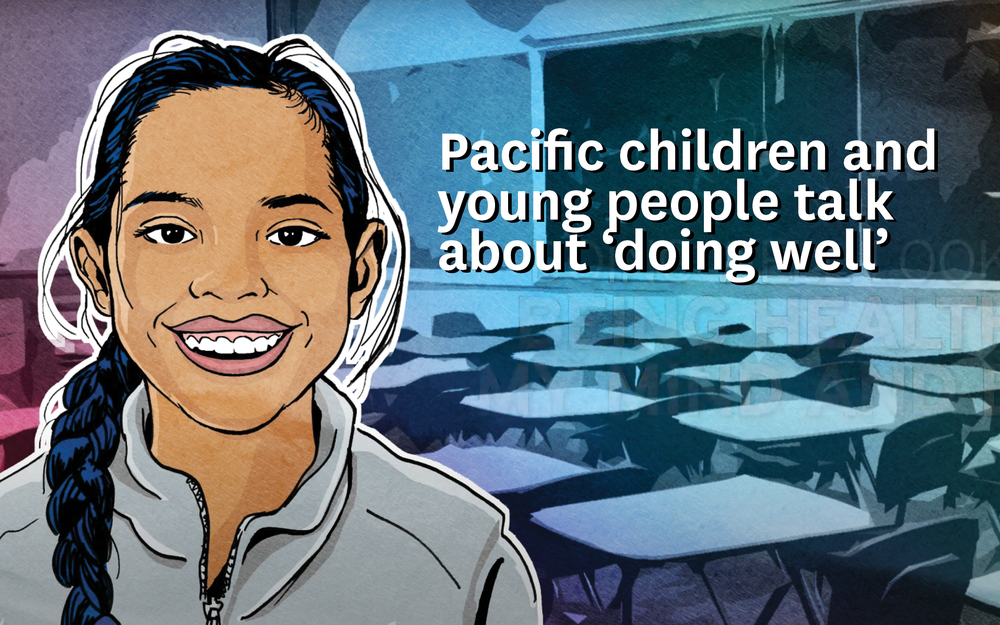 ---
Uniquely Aotearoa New Zealand – Philanthropy Conference 2023
We are looking forward to this year's Philanthropy Conference in which Philanthropy New Zealand (PNZ) will bring together philanthropists and grantmakers from across the motu and overseas to learn, network, celebrate achievements and collaborate. This funder-only event at Te Papa on 13 and 14 September will have a strong focus on climate action and preparing for and helping communities to recover from disasters.

CSI's Karinia Lee and Rachael Trotman are presenting a session, Evaluation and Impact for Aotearoa on Wednesday 13th from 3:00pm - 4:15pm. Karinia and Rachael will discuss the findings from Foundation North's 'understanding impact' initiative, and wider insights on good practice, leading thinking, and Te Tiriti considerations.

Our associates Kate Dawnier and Kate Cherrington will join speakers from various funders at the Masterclass session on Thursday 14th from 1:30pm – 3:30pm, The Landscape of Philanthropy – Shifting Culture and Power – Mana Enhancing Practice in Philanthropy. The latest Centre for Social Impact report, commissioned by J R McKenzie Trust, will be launched at the Masterclass. The report shares the journeys and insights of both funders and communities about mana-enhancing funding relationships.

Climate Action co-leads Esther Whitehead and Arohanui West's conference workshop, Your Sphere of Influence, is on Thursday, September 14, 2023, 10:00am - 11:20am. Esther and Arohanui are running an interactive session, designed to help funders gain clarity on their sphere of influence within their organisations and explore how to build capability for action. The workshop will address 'looking back to look forward', and outline how honouring Te Tiriti o Waitangi and Mātauranga Māori can support building a strong foundation for climate action in Aotearoa. The workshop will also support moving anxiety to action, demonstrating how we can utilise and understand climate psychology to help move towards activated optimism.

Conference attendees will also have the opportunity to enjoy the Ngahere wellbeing practices which Tuihana Ohia will offer during the lunch breaks.

We are looking forward to the insights offered by the stellar line-up of speakers PNZ has organised, and to connecting with our many friends from across the sector.
---
Farewell to Sue McCabe
Our best wishes to Sue McCabe who has resigned as Chief Executive of Philanthropy New Zealand after five years of service. Sue is staying on, potentially until Christmas, as the PNZ board looks to recruit her replacement. We salute you Sue for all you have achieved! We hope you get to take a well-deserved break before you take on your next career challenge.

Applications for the role of CEO are open. Details are available here.
---
Hui E! Community Aotearoa - sector hauora survey results

Hui E! Community Aotearoa have released Kōrerotia 2023, a report on the hauora and wellbeing of Māori, community and voluntary groups and organisations. This beautifully presented and easy to read report is rich in insights drawn from the Hui E! sector survey. The research shows the remarkable ability of sector groups and organisations to adapt and respond to community needs, even in difficult and uncertain conditions. This sees organisations innovate, flex and
develop new services and events, and use new tools, technologies, and business models. The research also highlights funding and workforce challenges and opportunities; the value of connections within the sector; and that while many organisations are reasonably optimistic about their futures, this is a sector under pressure with fatigue, exhaustion and burn out emerging as common themes.

Kōrerotia 2023 also identifies the opportunities in regard to funding, workforce and connection that are likely to improve hauora and wellbeing.
---
Foundation North and Creative New Zealand Asian Artists' Fund
The Asian Artists' Fund, is a partnership between Creative New Zealand and Foundation North. The fund, which is currently closed, has seen two rounds distribute $400,000 and $650,000 respectively to help address funding inequities for Asian artists through targeted project grants. A new video showcases grantee Abhi Chinniah. Abhi, a photographer, received a grant in 2022 to support Melanin Rising, an exhibition of photographic portraits, essays, and interviews exploring colourism.