Thriving Rangatahi: A review of protective and risk factors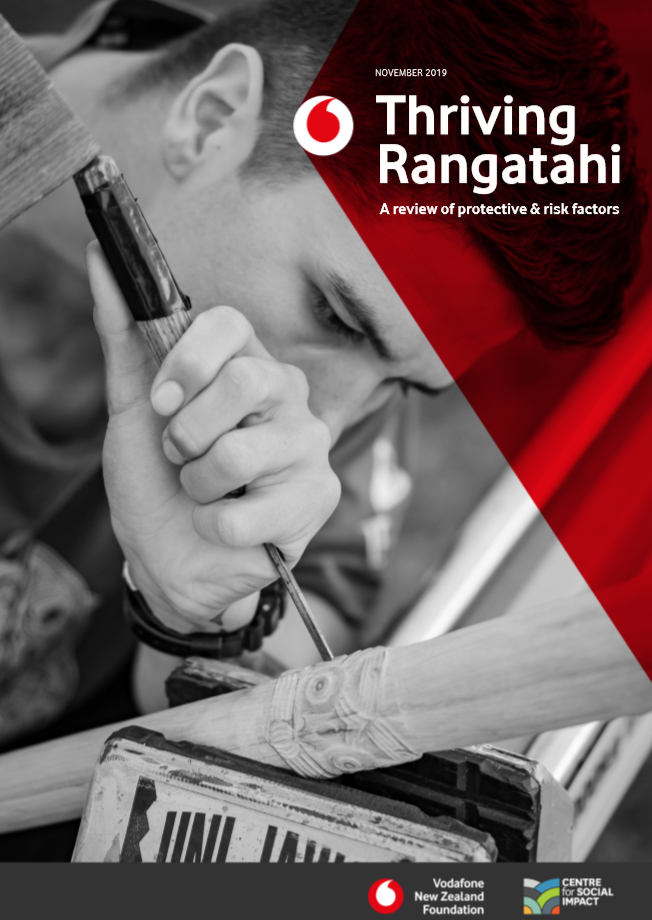 Treasury New Zealand estimates that there are 210,000 children and young people who don't have access to the resources and opportunities they need to grow into the great adults they want to be. The Thriving Rangatahi literature review was commissioned by the Vodafone New Zealand Foundation to help the Foundation and the wider philanthropic sector respond to the needs of these excluded and disadvantaged young people.

"Our Vodafone New Zealand Foundation vision is to see all young people in Aotearoa living lives they value," says Linn Araboglos, Foundation Manager. "The Foundation has an ambitious goal; to halve the number of excluded and disadvantaged youth by 2027.

"We commissioned the Thriving Rangatahi literature review from CSI to help us understand the strategic levers of change with the greatest potential to enhance protective factors and address risk factors for young New Zealanders. The review will inform the development of an impact model that can be used to track and measure change over time.

"This will help VFNZ and other philanthropic funders to better understand what is making a difference for excluded and disadvantaged young people. Funders can then direct resources in ways that have the greatest potential to make a positive difference."

Several key themes and considerations for philanthropic funders emerged from the review.

Positive life opportunities are an important protective factor. This suggests funders should consider finding ways to increase participation by excluded and disadvantaged young people in activities that build skills, connections, resilience and self-efficacy, and to creating environments that support cultural identity.

"But this is not just about investment in programmes and services," CSI's Sara Bennett says. Sara was part of a team of CSI associates which contributed to the review. "The literature also indicates the importance of taking a systems approach that addresses the underlying structural inequalities that reduce life opportunities. That means addressing the protective and risk factors that exist from the earliest stages of life, addressing intergenerational disadvantage, and the impact of colonisation on rangatahi Māori."

The report also places the challenges faced by New Zealand youth in the global context of the changing nature of work.

"Factors such as globalisation, automation and the loss of entry level jobs could exacerbate the existing inequalities for excluded and disadvantaged young people. Addressing these risks is an area of strategic concern for VFNZ, and I expect will be of concern to other funders," Sara says.

Thriving Rangatahi was generated from Vodafone New Zealand Foundation's programme of work to understand impact and shift the dial for disadvantaged and excluded young people in New Zealand. This work, funded by VFNZ, is being done in collaboration with the Centre for Social Impact, Nicholson Consulting and Deloitte.

Centre for Social Impact associates who contributed to Thriving Rangatahi included Kat Dawnier, Sara Bennett, Kate Cherrington, Rachael Trotman and Kathryn Nemec.