Thinking about leadership in a time of crisis
As New Zealand confronts the challenges of COVID-19, we're seeing leadership in action in the most difficult of circumstances. We think it is a good time to revisit two reflections on leadership from our associates.
Navigating Leadership is by Caren Rangi ONZM. Caren's thinking on leadership is informed by her own extensive experience in governance roles on not-for-profit, government and private boards to support CSI's work in governance.
The Leadership Wheel was created after a collective of CSI associates took time to gather and share their experiences across a myriad of leadership spaces within their professions, communities and whānau. The wheel weaves together in te reo Māori the principles of everyday leadership. Special thanks to Kate Cherrington and Louise Marra for shaping the thinking around the wheel, and to Kat Dawnier for wheel design.
Navigating Leadership
A koha and insight from CSI Associate and sector leader Caren Rangi ONZM
If there was ever a time that new forms of leadership were needed, it is this time – a time where there never is enough time, where busy-ness reigns and there is a 24-7 presence of immediate multi gigabytes of information. Such a time demands that our leaders be strong minded individuals, with well-researched recipes for solving problems, and that they keep a respectable "distance" from their followers while they stride their way through the diverse myriad of issues thrown their way. There is a sense that the best leaders have an air of invincibility, as they work the expected 70 hour weeks for months on end, always being available, and never offline.
"They will remember our generation as the world that never slept, and who existed in the space between texts and tweets, lamenting that there was never enough time"
This crazy but accepted world is also characterised by fast converging complex issues that have spanned generations and mean that, more than ever before, we are facing combinations of social, economic and environmental issues that we ignore at our peril. We know that these are uncharted waters for leaders locally, nationally and globally with high levels of uncertainty about the nature of future challenges.
So what kind of leadership do we need to confidently navigate such uncharted waters? We think that it is leadership that is prepared to recognise and honestly embrace the strength that comes from leading within a collective where space and relationships are as important as the leaders and followers within that collective. This is different to current models where the leader is a bystander, leading people and leading by remote. In this new environment, we will support and develop leadership with leaders, and not leave them isolated and expected to "do it all".
New leadership requires agile change in mindsets, starting with leaving behind the notion that the best leaders are perennial, seasoned, experienced individuals who proudly sport their scars that have resulted from their leadership battles over time. New leadership is interchangeable and recognises that we need different types of leaders for different situations and that those leaders can be found within all generations and can operate in those parallel planes. In addition, new leadership recognises the sense in constantly prototyping approaches to leading, rather than relying on the repeated application of the well-tested recipe for success.
Leaders are often called upon to be "fixers" – of people, places and problems, and leadership success is measured by the efficient (tidy) resolution of chaos into order. New leaders will need to be healers - of self, dysfunctional relationships, complex social and environmental issues, and will require a shift from assuming the sovereignty of humans, to acknowledging the sovereignty of nature. This will mean fronting up to the collective trauma that exists within society, often referred to as the "wicked systemic issues".
New leaders will need to leave behind the notion that good leaders "make do" with scarcity (of skills, resources, ideas) and instead will adopt an approach of celebration of abundance and savvy utilisation of the positive elements that do exist in many pockets in our communities.
Finally, new leaders will be encouraged to rediscover the joy of leadership, and the importance of love and relatedness – for self and for others. It is fitting then, that we conceive, navigate and grow new leadership here in the Pacific, a part of the world renowned for fearless navigators who regularly traversed unknown seas, leading tribes and islands to better lives.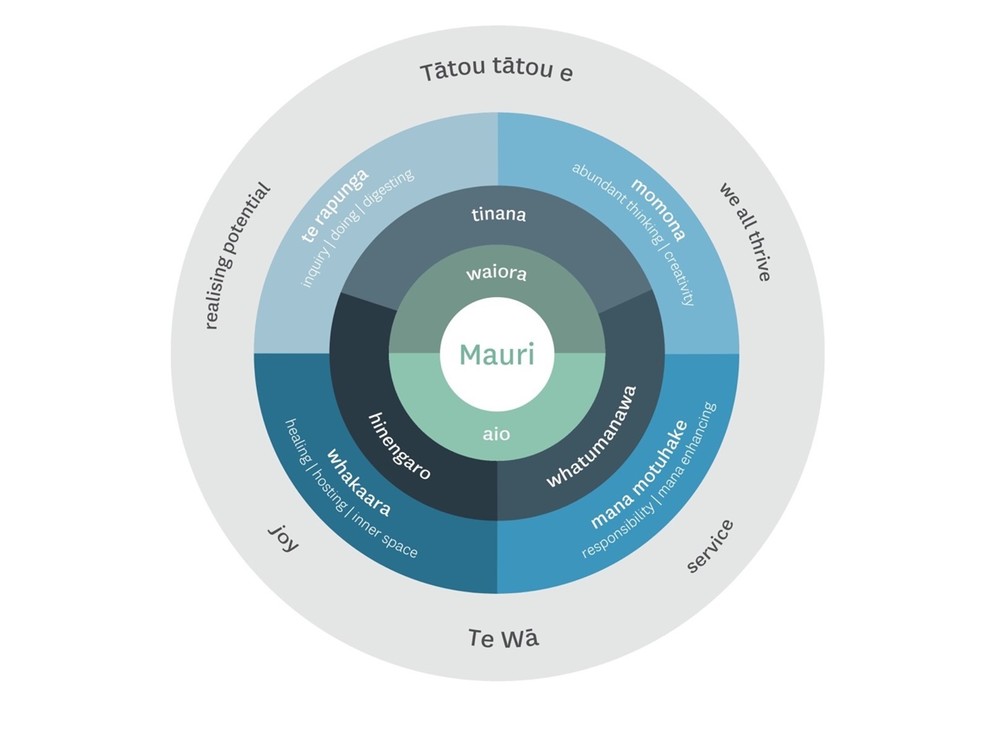 The Leadership Wheel
This leadership wheel was created based upon the leadership journeys of a collective of CSI associates who took the time to gather and share their experiences across a myriad of leadership spaces within their professions, communities and whānau. The diagram above weaves together the principles that help us to guide our everyday leadership practice. The principles at the centre of the wheel are expressed in te reo Māori.
Mauri - as intrinsic life force is described for the purposes of this model as acknowledging the need to take care of self and wellbeing. The spark of energy it takes, along with the confidence to express your leadership needs to be nurtured and valued as centre to effective leadership practice.
Aio - in general terms this word means tranquillity or peace in English. For the purposed of this tool it speaks to the balance needed for enduring leadership practice. It describes a higher principle that can be drawn upon to provide clarity, and space for those important leadership moments.
Waiora - Whilst another expression of soundness through balance and wellbeing – waiora also can describe a flow of creativity and identity– a well of sound thinking grounded in who we are as practitioners, whānau and community.
Whatumanawa - the seat of our emotion and the healthy expression of this in our daily lives.
Hinengaro - thought, intellect and awareness.
Tinana - our physical being. The practical application of our thought is through our bodies. For many leaders, the tinana takes a back seat to needing to be present for everyone, all of the time. The tinana houses the mind, intellect and emotions. A well tinana means more time and energy across the different responsibilities that leadership requires.
Te Wā - Space for convening, gathering, taking the time and being mindful of seasons and Te Maramataka - our own calendar.
Tātou Tātou - All of us, together. No matter who we are, no matter where we are from.